Below are some of our production capabilities: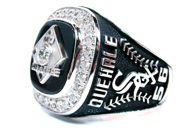 Sonarco is a division of A.M. Ross & Son, a family-owned jeweler and manufacturer since 1955.

The division was formed in 1980 to produce high-quality corporate-identified jewelry, sports rings, medals, and insignia. Our customers include many large jewelry retailers, independent jewelers, and small advertising and specialty companies.

All of our products are produced in the USA.